Our 2017 LagTutor.com Success Story
On Wednesday, January 4, 2017 we received a message from our website at lagtutor.com/contact_us.php that said "Please I'd like to make enquiries regarding a Mathematics home lesson teacher for Jamb exams. Thanks." – Chinedu
We replied the message from Chinedu and after some interaction we began tutoring him for his University Tertiary Matriculation Examination (UTME) in Mathematics, Economics and English. Chinedu hoped to be admitted to the University of Nigeria, Nsukka (UNN) to study Accounting. He had written UTME three times previously, and in the exam he wrote in 2016 he scored less than 160/400.
At the point we began his home lessons in March, 2017 Chinedu was very low in confidence about his academic abilities. That was what we began working on. A few classes on we advised him to apply for Business Administration instead of Accounting, telling him that there was the Institute of Chartered Accountants of Nigeria (ICAN) route to becoming a chartered accountant in Nigeria.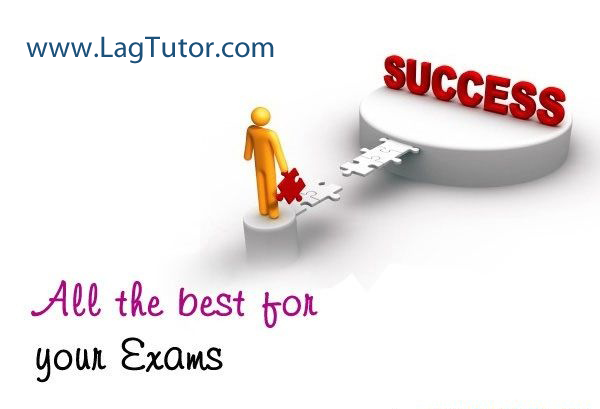 We prepare you for success
We worked earnestly with Chinedu in the months of March, April and May of 2017, doing several mock tests and corrections. By the time Chinedu wrote his exam in May he had sufficient belief in himself that he would perform well. And he performed well. He scored 268/400: English Language – 69, Mathematics – 57, Commerce – 76, and Economics – 66 in his 2017 UTME.
We continued communicating with Chinedu while he prepared for post UTME at UNN. He wrote it and scored 307. His aggregate score for UNN was (268 + 307) / 2 = 287.5. In November, 2017 Chinedu's name came out close to the top of the merit list for Business Administration at UNN. He has been admitted and has completed his registration. Chinedu has also enrolled for lessons and has started taking exams that hopefully would lead to him becoming a chartered accountant in a few years' time.
There are other candidates we prepared for success in 2017. There is Esther who gained admission into Yaba College of Technology, Yaba, Lagos and there is Sopulu at Pan African University (PAU), Lagos. We have candidates we prepared who are studying for various programmes at Afe Babalola University, Ado-Ekiti, Ekiti State and at the University of Lagos, Lagos. We also prepared candidates for WASSCE, NECO, post UTME and Unilag Foundation Programme.
According to Joint Admission and Matriculation Board (JAMB) over one million seven hundred thousand (1, 736, 571) candidates registered for UTME in 2017, all competing for about three hundred thousand (300, 000) available tertiary admission slots in Nigeria. These numbers imply that only about 17.3% of total applicants will be successful in gaining admission. For specific courses like Medicine and Surgery (MBBS) the success rate is even less than 10%.
The competition is intense and we bear the statistics in mind when preparing candidates. We also consider the academic abilities of our candidates and advise them accordingly. We draw up preparation plans and strategize for success. We communicate with candidates and their parent(s) or guardian(s) making sure that all parties concerned are aware of the stakes. In the end, success depends on the efforts and commitments of all parties involved.
We always endeavour to leave positive impact on our candidates.
Our services at LagTutor.com are not only available to our paying candidates. We have thousands of followers on social media (Twitter and Facebook) with whom we share information, news, resources and tips for success in secondary school leaving examinations (WASSCE, NECO) and tertiary institution qualifying examinations (UTME, post UTME, Unilag Foundation Programme). We provide information publicly through our website, blog and social media platforms for free.
Our goal at LagTutor.com is to prepare candidates for success in examinations using knowledge, experience, sound data analysis, and technology.
On Christmas Day 2017, Chinedu called to wish us a merry Christmas. He said he made it a point to call us on Christmas Day. He was happy for a successful year. Such feedback from our candidates keeps us motivated. It helps us strive for improvements in our service delivery.
Our commitment in 2018 is to prepare more candidates for successful outcomes in their school leaving and tertiary institutions qualifying examinations.
Sincerely,
Ugochukwu Ukwuegbu
For LagTutor.com
Feel free to contact us with your enquiries.
Follow us on Twitter and Facebook and you will be kept up-to-date with needed information.