TERMS OF USE
These terms of usage govern your use of www.lagtutor.com website and service. By using or visiting the www.lagtutor.com website you agree to be bound by these terms of use. If you do not agree to these Terms of Use, you should not use the www.lagtutor.com website. For the purposes of this agreement, "you" means the parent or adult who is paying for the service, as well as the student who is using the service and "lagtutor" refers to the www.lagtutor.com website.
Not Affiliated to the University of Lagos
LagTutor.com is not affilliated to the University of Lagos. Neither are we endorsed by the University. Our competence is based on the experience our members have gathered through the years while passing through the system of the University of Lagos.
Changes to Terms of Use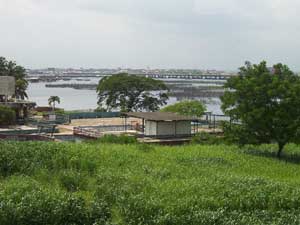 Lagoon Front View
www.lagtutor.com, reserves the right, from time to time, with or without notice to you, to change these Terms of Use in our sole and absolute discretion. The most current version of these Terms of Use can be reviewed by clicking on the "Terms of Use" located at the bottom of the pages of the lagtutor Web site. The most current version of the Terms of Use will supersede all previous versions. Your use of www.lagtutor.com or continued use of our service after changes are made means that you agree to be bound by such changes.
Privacy
Any information submitted on www.lagtutor.com is subject to our Privacy Policy, the terms of which are incorporated herein. Please review our Privacy Policy to understand our practices.
HOW OUR SERVICE WORKS
*Registration
Registration to www.lagtutor.com is free. Registration gives you access to some of our past questions and answers archive. Full access to our past questions and answers archive and to our admissions services will require gold membership to our website and which requires payment to be made by you to Caseray Solutions Limited.
You are solely responsible for maintaining the confidentiality of your account(s), and password(s) and for all activities and liabilities associated with or occurring under your account(s), and password(s).You agree to (a) provide true, accurate, current and complete information about yourself as prompted by the Service's registration form (such information being "Your Data"), (b) maintain and promptly update Your Data to keep it true, accurate, current and complete. You agree not to use the site, the Services or the Company Content to recruit, solicit, or contact in any form Tutors or potential Consumers for employment or contracting for a business not affiliated with us without our advance written permission.
*Tutoring
You can get as many tutoring sessions in all subjects as you need subject to availability of tutors. For the Intensive tutorials, users typically schedule sessions in advance and might have to book sessions at a time that might not be their first choice. www.lagtutor.com has the right to place temporary restrictions on tutor allocation during peak hours or with certain tutors to ensure equitable availability of sessions to all customers. www.lagtutor.com reserves the right to change the description of the service package whether it is to place restrictions on usage, limiting the subject, sessions, tutors or any other parameters considered "unlimited" without notice.
*Scheduling
You can have up to three sessions scheduled in advance at a time. After booking three sessions, the next sessions can be scheduled only after usage of one of the three sessions. www.lagtutor.com retains the right to change this at any time.
*Hours of availability
www.lagtutor.com website is available around the clock though a customer might not always get in touch with one of our staff to due unavailability of personnel at the specific time or due to technology problems or during a site maintenance window.

*Academic Quality
www.lagtutor.com tries to ensure adherence to JAMB curriculum and standards, however, this is not a guarantee. www.lagtutor.com tutors are certified and tested according to www.lagtutor.com standards.
*Technology
www.lagtutor.com uses proprietary, licensed third-party technologies and free technology products. While all attempts are made to ensure stability and availability of technologies used by www.lagtutor.com, the company cannot guarantee 100% uptime. You are solely responsible for all service, telephony and/or other fees and costs associated with your access to and use of our services and for obtaining and maintaining all telephone, computer hardware and other equipment required for such access and use.
*Admission
www.lagtutor.com does not guarantee admission into the University of Lagos. www.lagtutor.com is neither affiliated nor endorsed by the University of Lagos. However, we can provide you with needed information to make your admission process easy. www.lagtutor.com neither encourages nor engages in "expo", "supplying chips", "runs" or any other form of examination malpractice.
ACCOUNT ACCESS; IDENTITY PROTECTION
In order to provide you with ease of access to your account, www.lagtutor.com will place a cookie (a small text file) on any computer from which you access the www.lagtutor.com Web site. This cookie is used to identify you throughout the Web site. This cookie will be destroyed when you close the browser or logout of www.lagtutor.com. You are responsible for updating and maintaining the truth and accuracy of the information you provide to us relating to your account.
You are also responsible for maintaining the confidentiality of your account and password and for restricting access to your computer or mobile device. You are forbidden from sharing your account details with other people by providing them your password. However, if you decide to share your account with other people, you take full responsibility for their actions. Users of public or shared computers or unprotected mobile devices should log out at the completion of each visit to www.lagtutor.com.
If you find that you're a victim of identity theft and it involves a www.lagtutor.com account, you should notify our customer service through the www.lagtutor.com "contact" page. www.lagtutor.com reserves the right to place any account on hold anytime with or without notification to the subscriber in order to protect itself and its partners from what it believes to be fraudulent activity. www.lagtutor.com is not obligated to credit or discount a membership for holds placed on the account by either a representative of www.lagtutor.com or by the automated processes of www.lagtutor.com.
INTELLECTUAL PROPERTY
* Copyright
All content included on the www.lagtutor.com Web site and delivered to subscribers as part of the service, including text, graphics, logos, designs, photographs, button icons, images, audio/video clips, digital downloads, data compilations, and software, is the property of Caseray Solutions Limited , or its suppliers and is protected by The Federal Government of Nigeria and international copyright laws. The compilation of all content on this site is the exclusive property of Caseray Solutions Limited and protected by The Federal Government of Nigeria and international copyright laws. Content shall not be reproduced or used without express written permission from Caseray Solutions Limited, or its suppliers. You agree not to decompile, reverse engineer or disassemble any software or other products or processes accessible through www.lagtutor.com, not to insert any code or product or manipulate the content of www.lagtutor.com in any way that affects the user's experience, and not to use any data mining, data gathering or extraction method. www.lagtutor.com reserves the right to terminate your membership hereunder if www.lagtutor.com, in its sole and absolute discretion, believes that you are in violation of this paragraph such violations including the copying of content provided to you by us or the copying or other unauthorized use of our proprietary content. The use of www.lagtutor.com services is solely for your personal and non-commercial use. Please see the instructions at the end of these Terms of Use for notifying us of the presence ofany allegedly infringing content on www.lagtutor.com.
* Trademarks
The www.lagtutor.com logo, www.lagtutor.com, and caseray.com are trademarks or service marks of Caseray Solutions Limited. The www.lagtutor.com Web site, including but not limited to its graphics, logos, page headers, button icons, scripts and service names constitute trade dress of www.lagtutor.com. The trademarks, service marks and trade dress of www.lagtutor.com may not be used or reproduced without prior written approval from Caseray Solutions Limited and may not be used in connection with any product or service that is not affiliated with Caseray Solutions Limited, in any manner that is likely to cause confusion among customers, in any manner that dilutes the rights of www.lagtutor.com, or in any manner that disparages or discredits www.lagtutor.com. Other trademarks that appear on www.lagtutor.com are the property of their respective owners who may or may not be affiliated with, connected to, or sponsored by www.lagtutor.com. Any images of persons or personalities contained on the www.lagtutor.com Web site are not an indication or endorsement of the University of Lagos or any particular product or our service unless otherwise indicated.
MEMBERSHIP AND BILLING
* Free Live Tutoring (Trial)/Free Trial
We encourage the use of our service through free trial. Free trial is only available to first time customers of the www.lagtutor.com service and cannot be combined with any other offer. Only one free trial may be redeemed per student. You must have internet access to use the free trial offer. At the end of the free trial period, wherever applicable the customer may be automatically enrolled in the monthly subscription. Unless the customer has notified www.lagtutor.com that he/she intends to cancel prior to the end of the free trial period.
* Billing
Billing will only be required of members who wish to access much more than the limited access available to free users of the Web site. Users who opt to access the full services of www.lagtutor.com will be required to make payment to Caseray Solutions Limited through our bank accounts with Guarantee Trust Bank. Subscriptions are valid for a period of 12 months. If your Payment Method reaches its expiration date, you will be termintated from the use of our service.

* Cancellation and Refund
We are so confident about the quality of our tutors and the convenience and effectiveness of www.lagtutor.com online tutoring that we let you cancel your subscription anytime. To cancel, inform us through our "contact" page indicating your account name. However, we follow a strict No Refund policy.
For long term packages, the charges are realised on the monthly base rate. For example for The Intensive tutorial package, the base rate is N40,000. If the Intensive tutorial package is offered for N35,000 (paid upfront), the realised charges would be as per the example below. End of four (4) hours – N25,000 realised, end of six(6) hours – N30,000. After eight (8) hours service the realised amount would be N40,000. Tutoring is offered free after eight (8) hours. For any disputes this is the method of calculation and www.unilagadmissions.com reserves the right to change this policy at any time.
Please Note: For your safety and convenience, we verify customer details before cancelling your subscription. Please use your Subscription Number and login email in all communication with us. Leaving a voice mail, sending an email or posting a message on Customer Care chat will NOT lead to a cancellation of your account.
*Pricing
www.lagtutor.com reserves the right to change prices without advance notice and to offer promotions periodically to certain group of customers and thus not available to all customers. Prices will not rise during the current year of subscription or during the duration of a test prep package but can change for subsequent periods or test prep packages.
Money Back Guarantee
www.lagtutor.com guarantees that if you work with our tutors for at least twelve hours, you will see an improvement in your confidence and performance.
WEB SITE CONTENT
We distribute subject content, and other animations and we reserve the right to display and promote the content or other information on our Web site to you in any manner we choose in our sole and absolute discretion. In addition, the www.lagtutor.com Web site allows you and other third parties to post comments, give feedback concerning the services offered, our tutors, and subject content distributed by us. Any opinions, advice, statements, services, offers, or other information that constitutes part of the content expressed or made available by third parties on the www.lagtutor.com Web site are those of the respective authors or producers and not of Caseray Solutions Limited or its shareholders, directors, officers, or employees. Under no circumstances shall Caseray Solutions Limited, or its shareholders, directors, officers, directors, or employees be held liable for any loss or damage caused by your reliance on information obtained through the www.lagtutor.com Web site. It is your responsibility to evaluate the information, opinion, advice, or other content available through the www.lagtutor.com Web site.
Use of Information Submitted
www.lagtutor.com is free to use any comments, information, ideas, concepts, reviews, or techniques or any other material contained in any communication you may send to www.lagtutor.com ("Content"), including, without limitation, responses to questionnaires or through postings to the www.lagtutor.com Web site without further compensation, acknowledgement or payment to you for any purpose whatsoever including, but not limited to, developing, manufacturing and marketing products and creating, modifying or improving the www.lagtutor.com Web site or other Web sites. Furthermore, by posting any Content on our site, submitting Content to us, or in responding to questionnaires, you grant us a perpetual, non-exclusive, royalty-free irrevocable license and right to display, use, reproduce or modify the Content submitted in any media, software or technology of any kind now existing or developed in the future.
Please note www.lagtutor.com does not accept unsolicited materials or ideas for use or publication, and is not responsible for the similarity of any of its content or programming in any media to materials or ideas transmitted to www.lagtutor.com. Should you send any unsolicited materials or ideas, you do so with the understanding no additional consideration of any sort will be provided to you, and you are waiving any claim against www.lagtutor.com and its affiliates regarding the use of such materials and ideas, even if material or an idea is used that is substantially similar to the idea you sent.
SERVICE TESTING
From time to time, we test various aspects of our service, including service levels, plans, promotions and pricing, and we reserve the right to include you in or exclude you from these tests without any legal consequence.
Thank you.
The LagTutor.com team